Gaming sessions can last for hours. One moment you're queuing for a ranked game at 8:00 PM then suddenly—the Sun's out.
The reason could be the addictive game—or a comfy pc gaming setup. 
Our pc gaming setup needs to be as comfortable as possible to ensure less strain on our bodies during tedious sessions. We're here to help! In this article, we'll be going over:
The optimal pc gaming setup. 

How to design your gaming setup. 

Tips to ensure maximum comfy vibes. 
The Optimal PC Gaming Setup
It doesn't matter if you're on a console or if you're on a PC. We don't discriminate. What does matter is our physical and mental well-being. Having an optimized setup helps with that. 
With the optimal pc gaming setup, you get the following benefits:
Less eye strain.

Less likelihood of back pain. 

Reduced chances of neck injury.

Reduced cases of wrist strains. 

Improved posture.
So, what does the optimal setup look like? Here's a quick rundown of what you need.
Create an Open Space
Comfy gaming setups mean creating a clutter-free space. Choose a desk that's wide enough to fit your monitors, speakers, and other peripherals without making it look too cramped.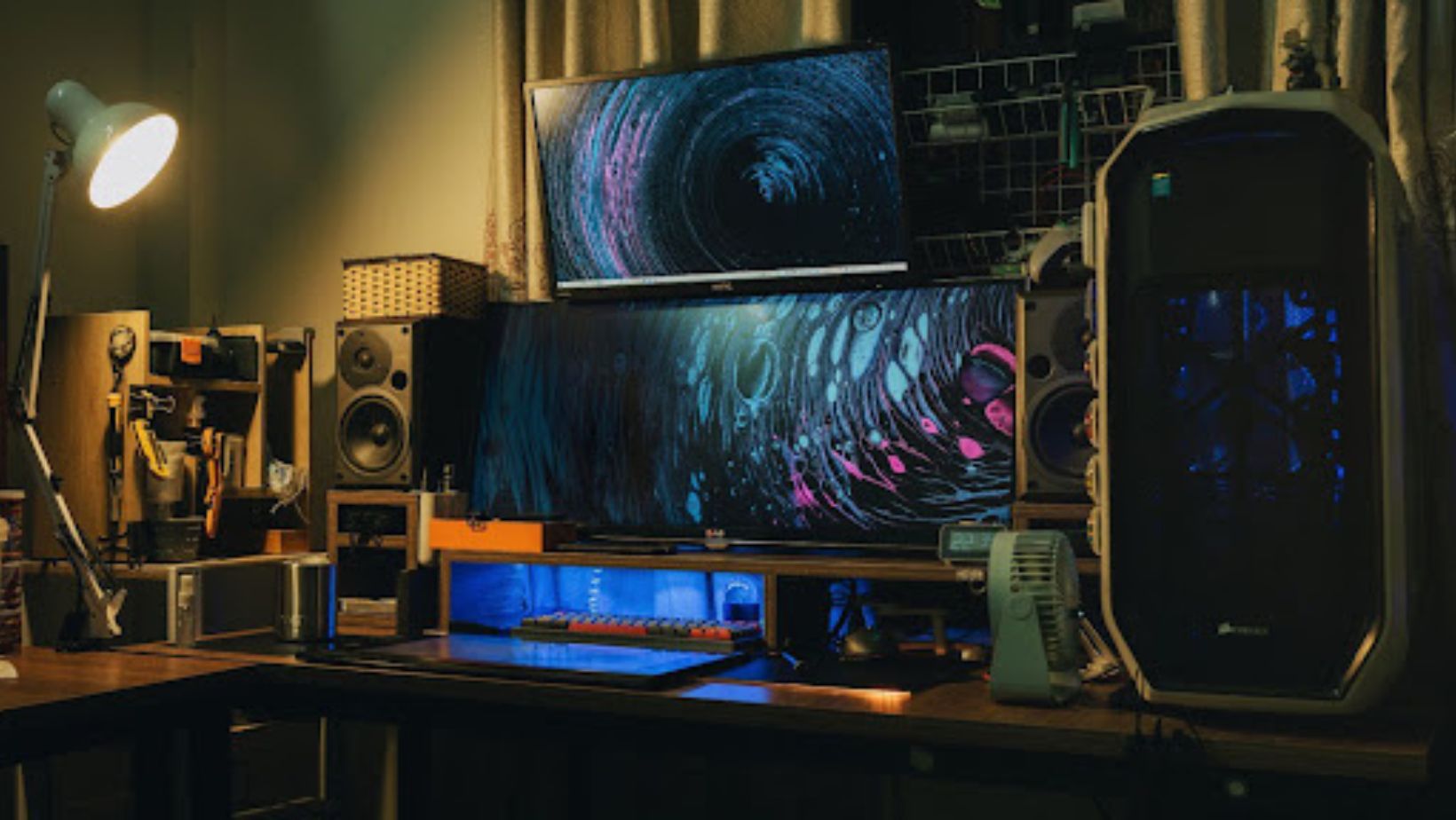 Calculate the space needed to fit everything on the table. As a rule of thumb, give an extra 10-20% of space so you can add more items without sacrificing desk real estate. 
You can find the length and height in cm using basic measurement tools. Once you have the dimensions listed, you can start finding a big-enough table if yours isn't already. 
Optimize Monitor Distance
Even with anti-blue light glasses, eye strain can still affect us—especially during long gaming sessions or if the monitor is too close. Here's a quick checklist to help you with monitor distance:
24-inch monitors: 2 to 3 feet away.

27-inch monitors: 3 to 4 feet away.

32-inch monitors: 5 feet away. 
Remember to always position your monitor at eye level. This way, you won't strain your neck looking up or down the screen for long periods. 
Investing in an Ergonomic Chair
There are literally thousands of gaming chairs in the market. But, the reason most of these are popular is because of marketing and sponsorships.
Although they look comfy, gaming chairs offer inferior support and comfort. If an ergonomic chair is out of your budget, even office chairs are better options than gaming chairs. 
How to Design Your Comfy Gaming Setup
When it comes to aesthetics, it's all up to you. But, regardless of preference, what makes a pc gaming setup comfortable are three simple factors:
Color
The color scheme or theme you choose decides your aesthetic—and the peripherals that go with it. Will you be going for a minimalistic black/dark theme? Or will you be going all out RGB?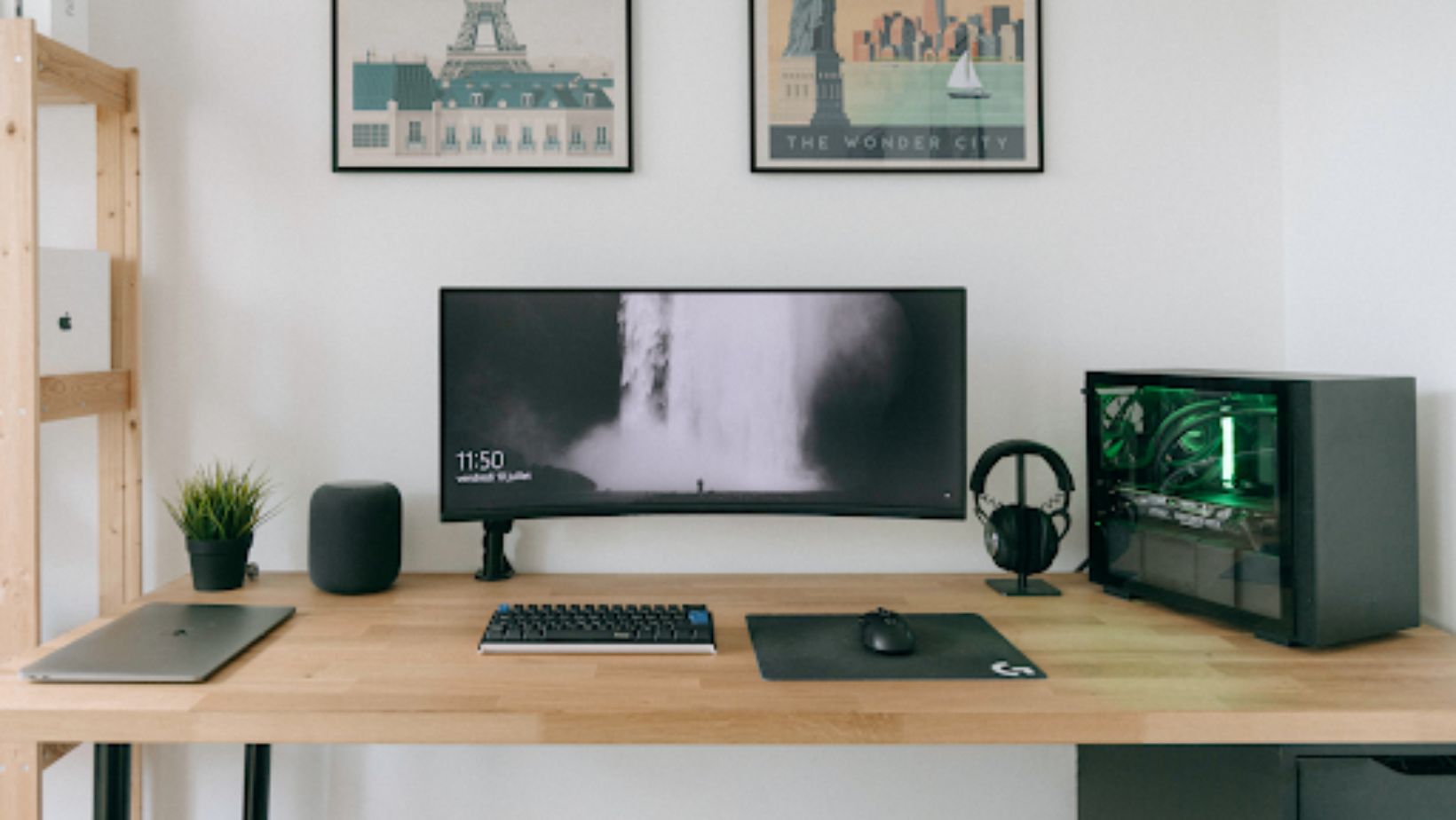 If you're not sure what color palette to choose from—black or white as the main colors are always a solid choice. Think black keyboards, speakers, monitors, or PC cases. 
Cables
Cable management is the pride and joy of PC gaming. The cleaner the cable management, the less hectic and cluttered your gaming areas will be. 
For best cable management results, use zip ties, invest in a table that helps you hide cables neatly, and take your time with it. 
Lighting
Gaming in "Dark Mode" is overrated. It'll strain your eyes faster. Plus, it doesn't look good. What does look good is set up with the right lighting—even in dimmer settings. 
Get backlights, LED strips you can sync to your PC, or lamps with clear shades that allow faster color dispersion. Any light can do—just don't play when the only light source is your monitor. 
Key Takeaways
Getting the best specs for your gaming PC is great. But, what's even better is gaming for hours on end with the most comfortable PC gaming setup you can build. 
Here are some quick reminders for gaming comfy:
Create open spaces.

Distance your monitor according to its size.

Go for ergonomic chairs or office chairs over "gaming chairs".

Design your gaming setup based on a theme. 

Cable manages your entire setup.

Always add lighting even in dimmer settings.